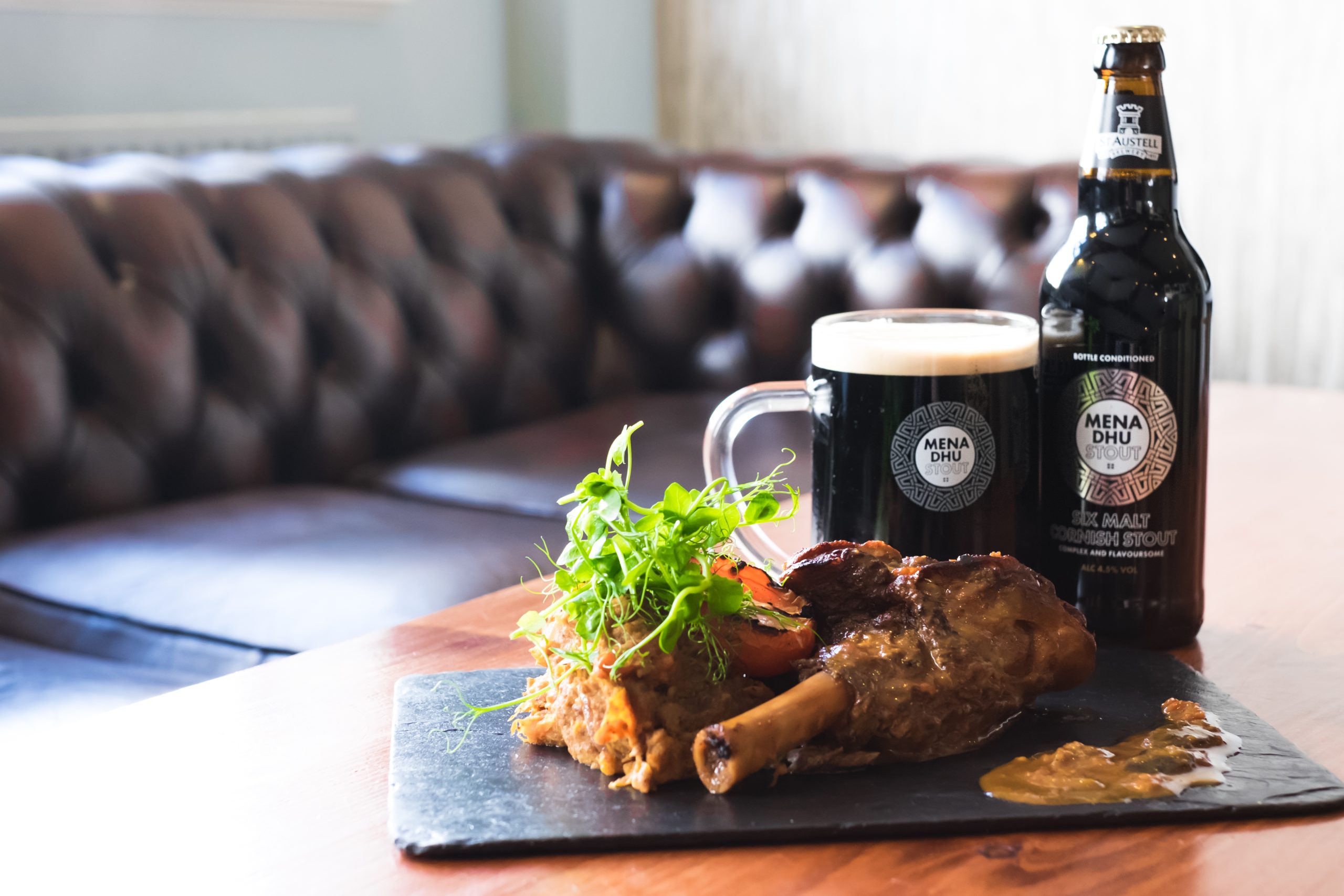 To celebrate National Curry week, here's a sublime recipe that brings together a blend of Indian spices that uses the French-style of braising tougher cuts of meat in a warm bath of Cornish Mena Dhu stout. Chef Prosenjit Sanjay Kumar's interpretation of his mother's Rogan Josh recipe.
Cook it slowly and gently in an oven or if you're in a hurry, use a pressure cooker.
Serves: 2
Prep time: 40 minutes
Cooking time:  20 minutes in the pressure cooker or 6 hours in the oven at 100°C.
Ingredients
2 large lamb shanks trimmed and tied with a butcher's twine to keep its shape
300 gm natural Greek yoghurt
5 gm cumin powder
1 sprig of mint, chopped
3 gm turmeric powder
1 gm chilli powder
2gm coriander powder
1 gm ground ginger
25 ml vegetable oil
2 large onions, chopped
6 ripe plum tomatoes, chopped
4 whole cardamom pods
1 pinch of saffron strand
1 pinch of ground nutmeg
1 litre water
500 ml Mena Dhu Cornish stout
1 bunch fresh coriander leaves
To serve (optional):
Mashed potatoes or mashed Bombay potatoes
Pea shoots
Mint yogurt
500ml Mena Dhu Cornish stout
Preparation method
Whisk a third of the yoghurt in a bowl, add a pinch of ground cumin and mix in the chopped mint. Keep refrigerated.
Coat the lamb shanks in the ground ginger and some of the chilli, coriander and balance cumin powder. Keep the balance spice powders for later.
Pour the vegetable oil into the base of the pressure cooker or an oven proof casserole dish. Place the lamb shanks and gently fry until brown. Transfer the shanks to a plate and keep aside. In the same dish, fry the chopped onions until brown.
Add the chopped tomatoes and cook on a medium heat for approximately 5 – 6 minutes until the tomatoes are soft.
Add the cardamom, saffron strands, nutmeg and yoghurt to the sauce and top it up with Mena Dhu stout and water.
Return the lamb shanks to the spicy mix in the cooker or oven proof casserole dish.
If using a pressure, cover with the lid and cook for 20 minutes, so that the lamb falls off the bone.
For the oven-cooked version, cover with a lid and place in a pre-heated oven at 100°C and allow to cook for 6 hours. Check it half way through the cooking and a couple to times after to make sure that there's enough liquid. Add some Mena Dhu or water if needed.
The lamb shank is best served hot on a bed of mashed potatoes or mashed, spicy Bombay Potatoes. Spoon over a generous ladle-full of the gravy and top with pea shoots.
Serve with a fresh, mint-yogurt and a pint of your favourite St Austell Brewery beer.