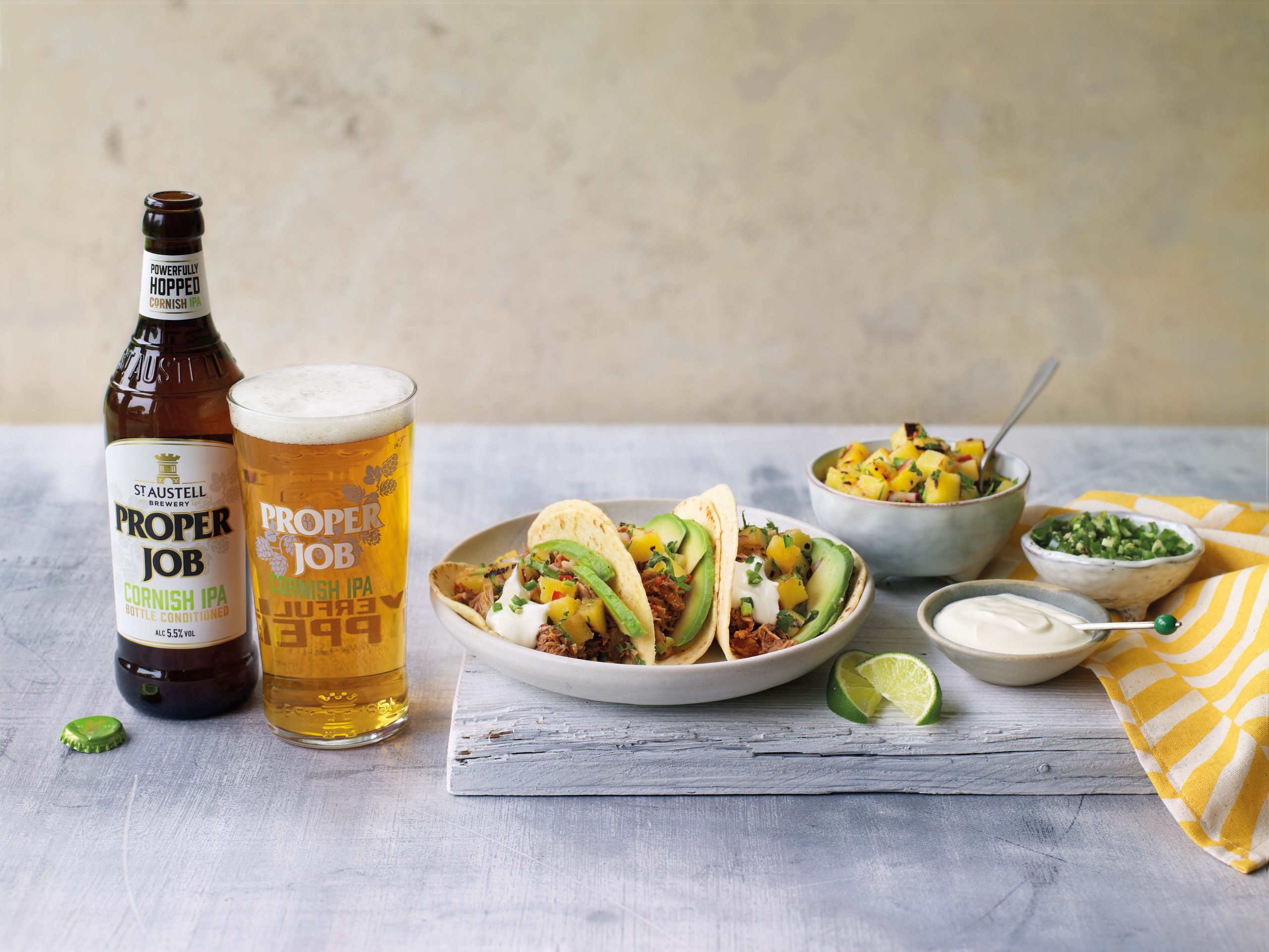 Mexican dishes have just the right level of spice to harmonise well with Proper Job's powerful blend of American hops. These carnitas tacos, with pineapple salsa, corn tortillas and pork that's been slow cooked in Proper Job are delicious and beyond simple to make at home.
Ingredients
1kg pork shoulder (with fat and skin on)
1 litre vegetable stock
250ml of Proper Job IPA
2 bay leaves
Corn tortillas
Lime wedges
For the Mexican tomato sauce
3 tablespoons of olive oil
400g can chopped tomatoes
½ tablespoon of white vinegar
2 teaspoon of onion powder
1 teaspoon of garlic powder
½ teaspoon of cumin
1 teaspoon paprika
1 teaspoon of white sugar
1 teaspoon of cayenne pepper
1 teaspoon of oregano
For the pineapple salsa
1 pineapple – peeled and sliced into 1cm thick slices
Olive oil
1 red chilli diced
2 tablespoons lime juice
Small bunch of coriander
½ red onion, finely diced
Optional extras
Jalapeños
Sour cream
Sliced avocado
Method
Preheat oven to 160 degrees
Heat up vegetable stock and Proper Job with bay leaves.
Place pork shoulder in deep baking tray, skin side up and rub with sea salt. Once vegetable stock is hot poor around the pork shoulder, almost covering all the shoulder. Cover with baking paper and then seal baking dish with aluminium foil.
Place in oven, remove pork shoulder after 4 hours and test softness. It should fall apart when using a fork to pull the meat. If not at this stage return to oven for another 1-2hours.
Make Mexican tomato sauce, while the pork finishes cooking. Heat up oil and combine all ingredients into a pot and cook together over low heat for about 20 minutes until slightly thickened. When pork is finished, add one cup of vegetable stock to the sauce. Remove bay leaves.
Once pork is cooked and can be easily pulled apart, remove from oven. Remove pork skin and fat layer and discard. Remove pork meat from stock and place into another baking or large bowl. Shred the meat with a fork or tongs. Add tomato sauce to meat and stir through. If requires more liquid add a little more of left over stock. *(if preparing pork in advance, refrigerate shredded pork in a container and leftover stock in another, then whilst re-heating, add some stock to re add juiciness to the meat).
Taste and season with salt if necessary.
Heat up a griddle pan on medium-high heat. Rub the pineapple slices with a little olive oil and grill each side for a few minutes. Remove from pan and cut pineapple slices into cubes. Add to a bowl along with onion, chilli, coriander and squeeze over lime juice. Stir together.
Heat up your corn tortillas in a dry frying pan – 1-2 minutes each side. Top with carnitas and pineapple salsa. Add optional toppings of sour cream, avocado slices and jalapeños. Serve with lime wedges.