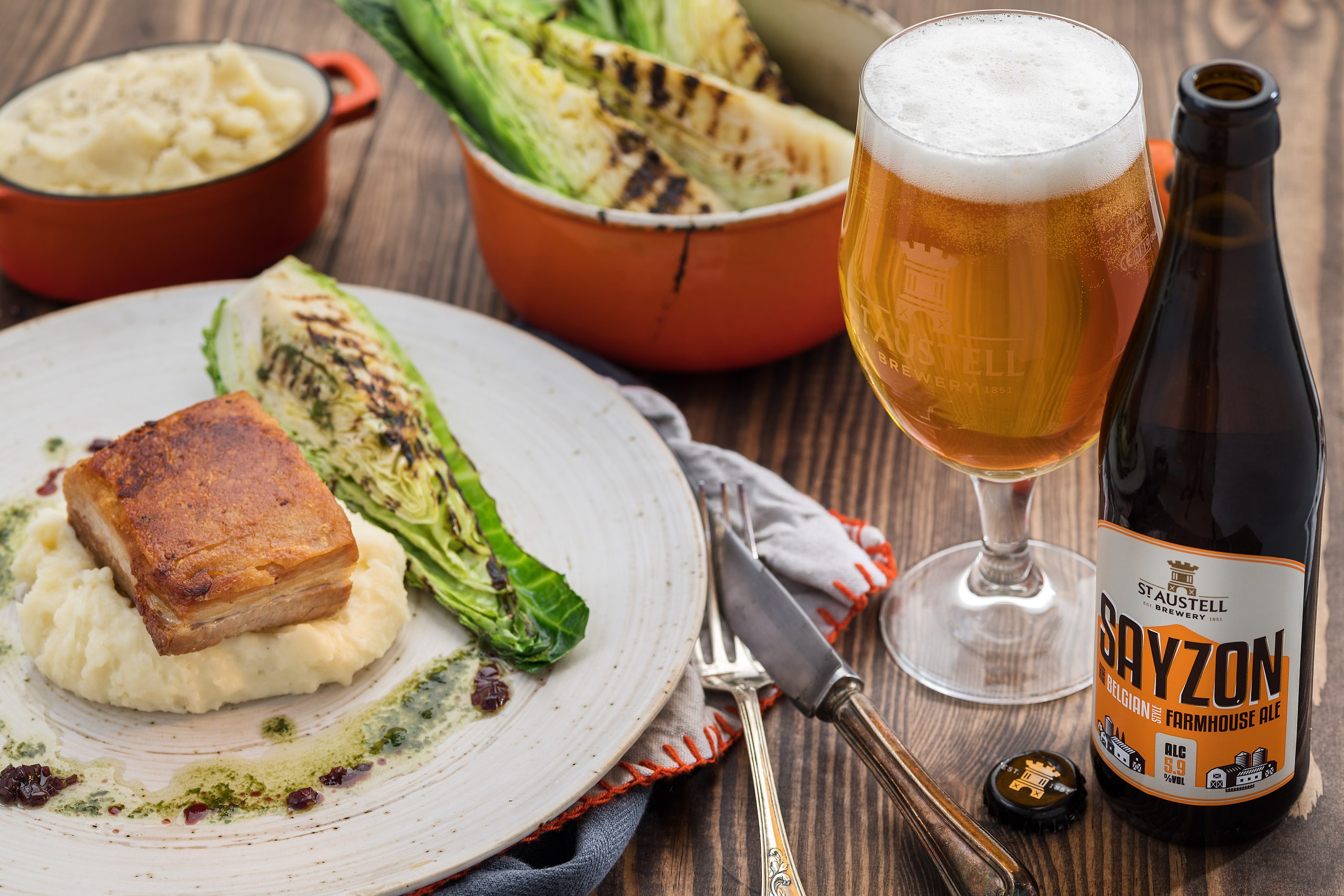 Delivering a crisp taste with ginger and zesty notes, Sayzon complements the richness of the pork in this warming autumnal dish.
Serves 4
INGREDIENTS:
1 pork belly, trim fat and skin off
Brine
200g salt
2 litres of water
20g basil leaves
50 ml olive oil
Potato mash
800g potatoes
200g whole milk
200g double cream
50g butter
10g salt
Basil oil
20g basil leaves
50g extra virgin olive oil
Cabbage
1 hispi cabbage cut into four
Sea salt
2 heads of garlic finely sliced
50ml olive oil
METHOD:
Combine the salt and water for the brine and place the pork in it overnight. This will soften the meat. Preheat the oven to 140C. Wash the brine off the pork and pat dry. Place in a roasting tray and roast for 2 hours at 140C. Remove the pork from the oven, then leave to rest and cut into 4 pieces width ways.
Peel and cut the potatoes into chunks and cook in cold water with salt until soft. Mash them with a ricer or fork. Warm the cream, butter and milk and fold through.
To make the basil oil, mix the oil and basil in a blender and reserve.
For the cabbage, get a griddle pan very hot and colour the cabbage quarters on all sides. Do not cook too much – you want some crunch.
Place the garlic and olive oil in a cup and microwave on full heat for 30 seconds until soft. Drizzle this over the cabbage and season with sea salt.
Serve the mash and pork belly with the cabbage and basil oil, and drizzle with the roasting juices.