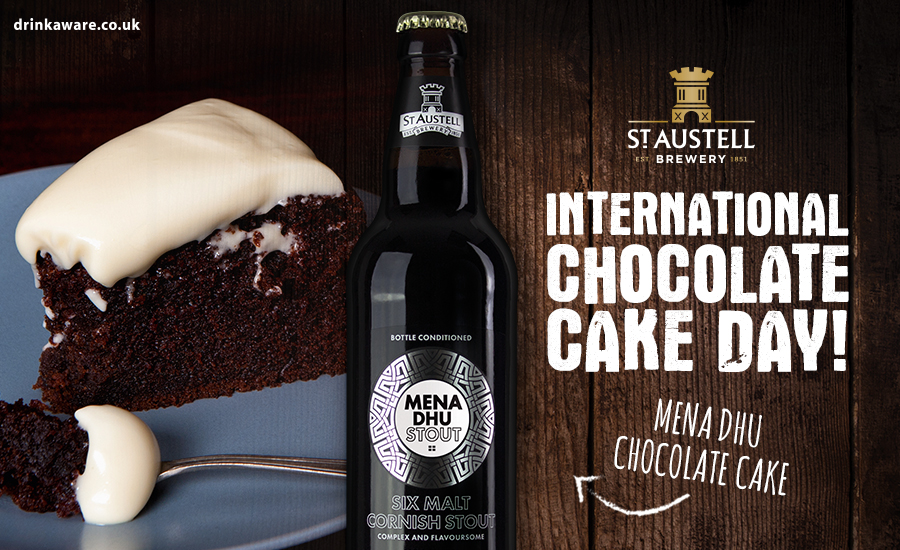 To celebrate International Chocolate Cake Day, we've put together a very special recipe using our Cornish stout, Mena Dhu.
250ml Mena Dhu stout
250g butter
100g cup cocoa powder
400g light muscovado sugar
140ml sour cream
2 eggs
1 tbsp vanilla extract
250g plain flour, sifted
2 tsp baking powder
Cream Cheese Icing
500-600g icing sugar
100g butter, room temperature
250g cream cheese, room temperature
2-4 tbsp whiskey
Method
1. Preheat oven 180°C/350°F and butter and line an 8" cake tin.
2. Pour the Mena Dhu stout into a saucepan over a low heat, add the butter and allow it to melt.
3. Whisk in the sugar and cocoa. Take the pan off the heat and allow it to cool a bit.
4. Beat the sour cream, eggs and vanilla in a separate bowl until combined and pour it into the beer mixture.
5. Gently fold in the flour and baking powder until combined.
6. Pour the cake batter into the tin and bake for an hour. The middle of the cake might be slightly wet but it will firm up as the cake cools down.
7. Let the cake cool in the tin since it's a moist cake and likely to collapse.
Cream Cheese Icing
1. Cream the butter and icing sugar together until well mixed.
2. Add the cream slowly until incorporated.
3. Add in the whiskey and mix until the icing is light and fluffy.
4. Top the cake with plenty of the icing to look like a full head of Mena Dhu.
Enjoy the cake with a glass of Mena Dhu.