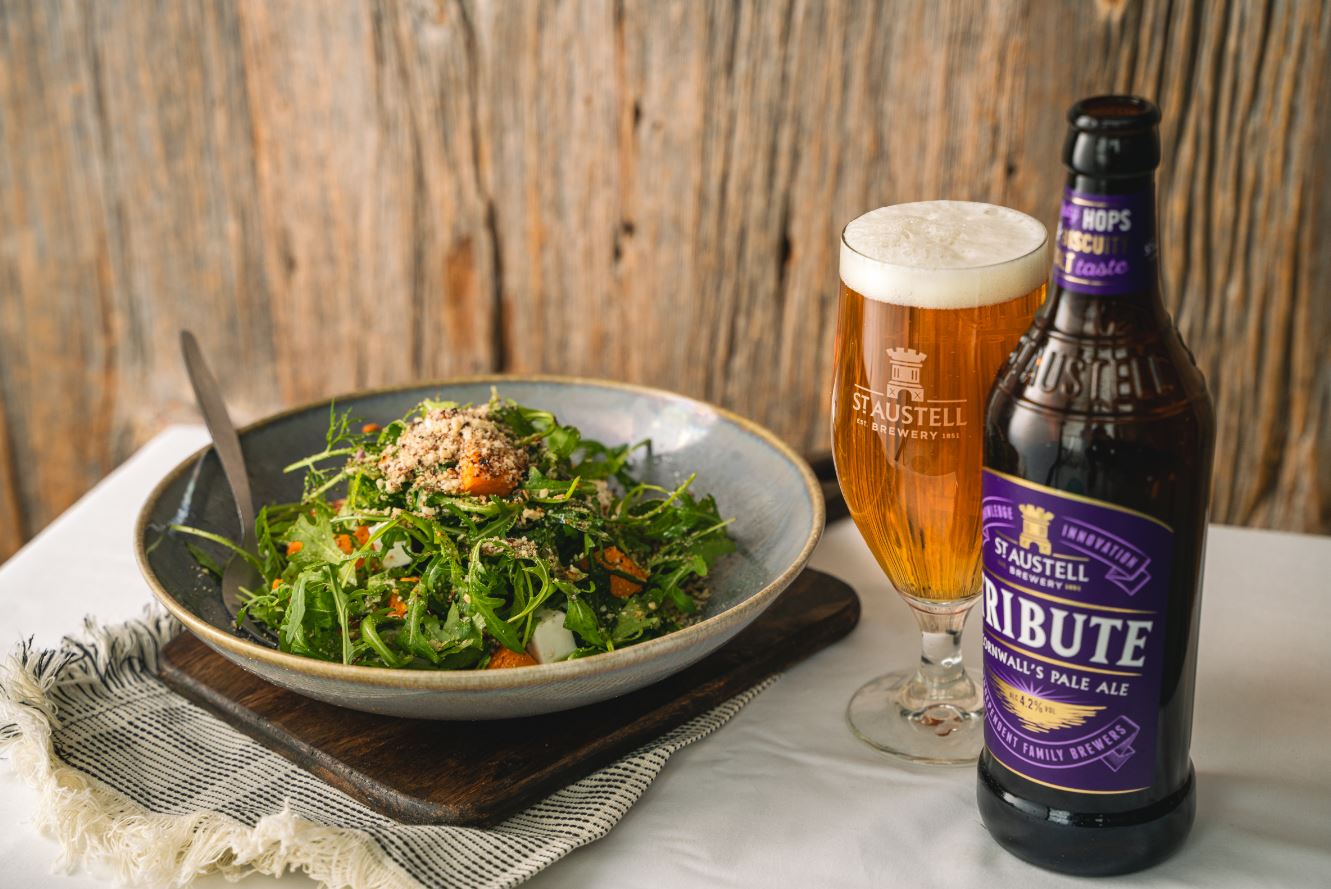 Roasted squash and feta salad with dukkah – pair with Tribute Ale
Ingredients: 
1 butternut squash
2 tablespoons olive oil
50g shelled walnuts
60g hazelnuts
40g sesame seeds
40g pumpkin seeds
1 tablespoon cumin seeds
1 teaspoon pepper
100g vegan feta cheese, crumbled
3 teaspoons sea salt to serve
150g rocket
70ml olive oil
Juice of a lemon
Method:
First prepare the squash. Peel it and then – using a large, heavy knife – cut it in half. Using a spoon, scrape out the seeds and fibres. Finally, using a sturdy vegetable peeler, remove the outer skin. Cut the flesh into cubes about 2cm in size.
Preheat the oven to 200ºC Fan (220ºC/Gas Mark 7).
Put the squash cubes in bowl and toss with salt and olive oil. Place in the oven and cook for 20–30 minutes.
Meanwhile, in a dry frying pan, cook the walnuts and hazelnuts on a low heat until toasted. Add the cumin seeds and cook for another few minutes until toasted. In a food processor, blend the nuts and cumin seeds quickly to roughly break them up before transferring to a bowl.
In the same dry frying pan, toast the pumpkin seeds until they are brown and beginning to pop, then toast the sesame seeds for 30 seconds. Stir the pumpkin and sesame seeds into the bowl with the walnuts, and add 2 teaspoons of salt and 1 teaspoon pepper.
Remove the squash from the oven and allow to cool a little.
Transfer the the squash and vegan feta into a bowl and stir to mix. Add the rocket and toss together. Drizzle with the remaining tablespoon of olive oil and squeeze over the lemon juice. Add more salt if necessary.
Add half the dukkah and mix through. Serve the salad in bowls with extra dukkah.